I was lucky enough to get my son and I free tickets to attend the End of Season Party, in the Jasper Carrot Suite at St. Andrews.
First of all, it's important that you know this was the 'Blues Crew' and 'Beau's Buddies' Junior Blues memberships awards ceremony, so will have no bearing on the 'Official' Awards ceremony that will take place on 30th April, though one of the lucky kids from the junior awards party was selected to present the Junior Blues Player of the Season award to the lucky winner, at the ICC…
For those interested, you can still vote for the Player of the Season here!
Anyway, we arrived in the Kop Reception, and saw the relocated trophy cabinet, replete with replica of the Carling Cup, resplendent in its blue and white ribbons.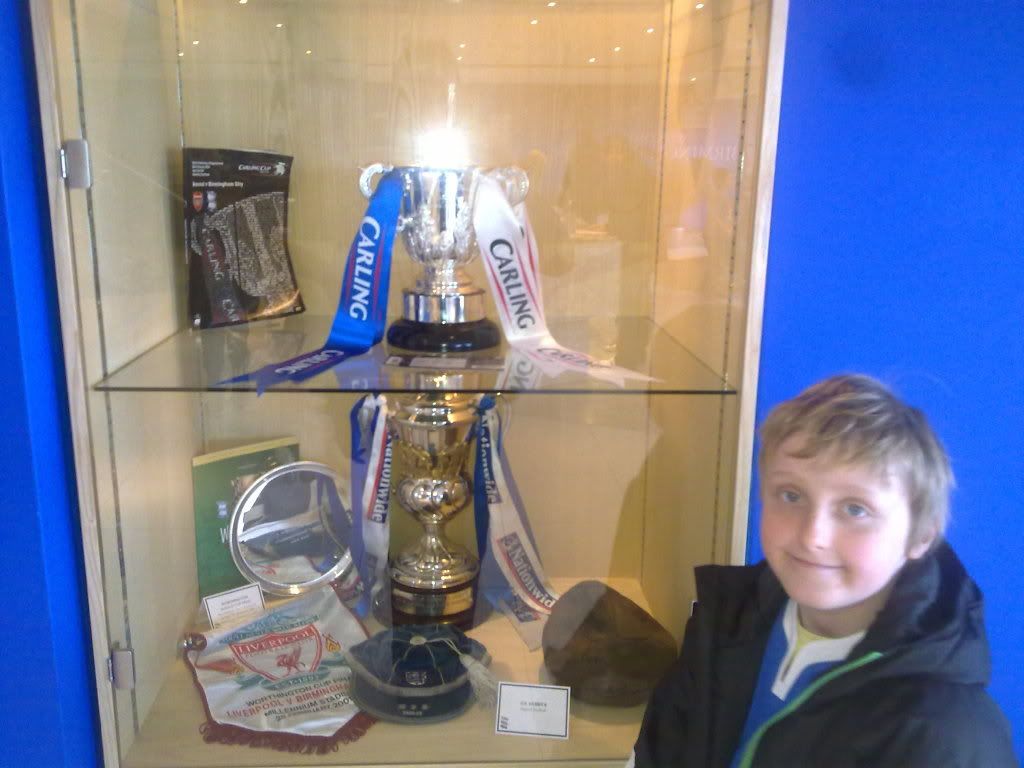 Taking our seats in the Jasper Carrot Suite, we were offered free refreshments.  Hot drinks for adults and squash for the kids, and heaps of snack foods kept the kids busy while we waited.  Great hospitality is something Birmingham City have built a good reputation for in recent years.  There was a raffle for a signed match ball, signed squad shirt, trip to the training ground (for four!) and a chance for a child to be the mascot for the Reading game, as well as the aforementioned opportunity to present the Young Fans' Player of the Season award.  None of which I managed to win, but it was great seeing young Blues fans winning such amazing prizes!
We had a glossy brochure, with all the nominees printed in, and a space on the back for autographs.  All the talk was about which players would be available to sign them.  Zigic, maybe?  Perhaps some academy players, the cynics speculated…
I really was enjoying the whole process, it was just like the Oscars…but without actors.  Or Oscars 😉
Anyway, the first category was "Signing of the Season".  The fourteen named in the brochure were 'shortlisted' down to the final three of Steven Caldwell (he was made captain after all!), Chris Burke and Marlon King.  And the winner was…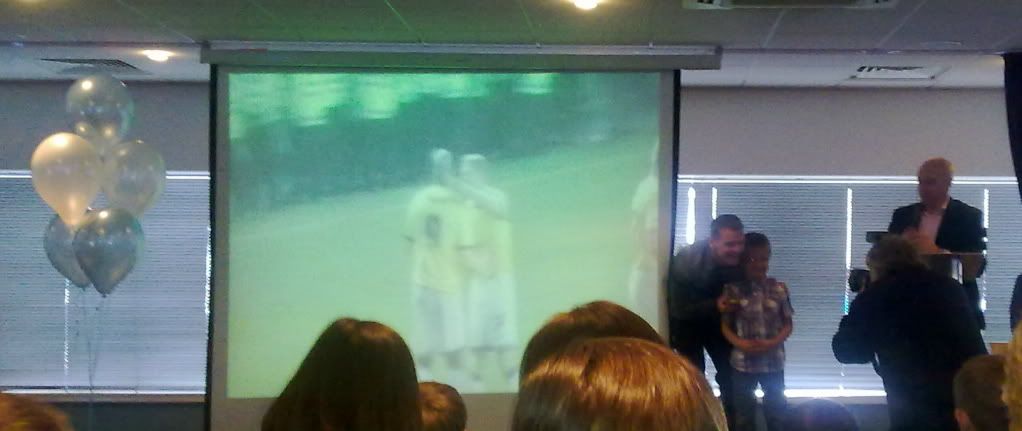 Chris Burke entered the room to rapturous applause, and rapidly silenced the cynics who had thought the first team may have 'ducked out' of this one.  Not too many would disagree with this award, £0, thirteen goals (to date) and fifty four appearances and counting…
Next was Defender of the Season.  This – to me – was the most tricky category to call.  I mean, David Murphy has been outstanding, Curtis Davies has been a rock in the centre, and our club captain, Steven Caldwell has been a towering influence at the back, so it was interesting to see who would win this award…the winner was…
Steven Caldwell, Captain in Carr's absence, proved that this ceremony was taken seriously by the squad, he even brought his two children along for the experience, and how great is that for the young fans of our club?  Their support, and their opinion, truly does count!  He accepted this award with a huge smile, and well he might, as he must have fought off brave opposition from Murphy and Davies, not forgetting Spector,  Ibanez, Carr and Ramage of course!
Next came Midfielder of the Season.  In truth there would only be one contender for this category, but with the emergence of Jordon Mutch, the re-emergence of Keith Fahey, and the cult status of Guirane N'Daw, you never know!  The winner (of his second award of the day) was…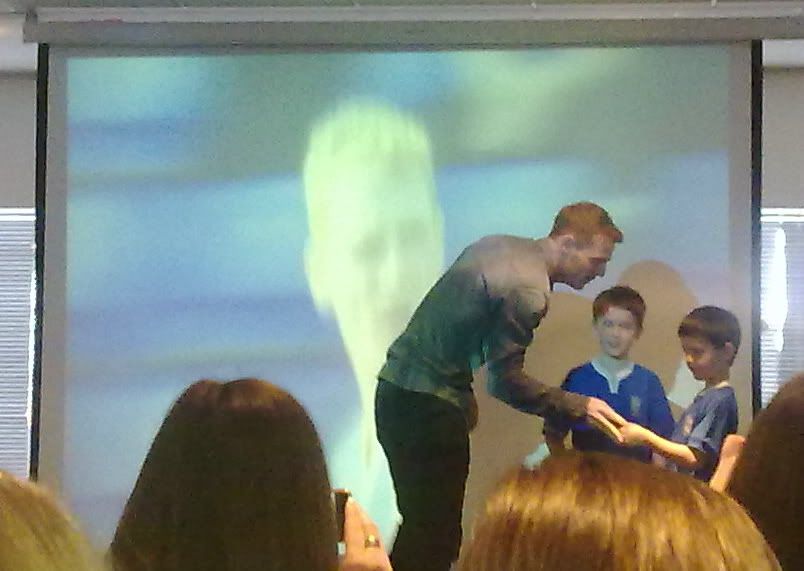 Then came Striker of the Season.   Oddly, Adam Rooney wasn't named in the brochure under this category, but they made it up to him by shortlisting him in the top three.  It was down to Zigic, Rooney and King.  And the winner was…Steven Caldwell!?
Marlon chose not to appear via satellite, and Steven Caldwell, as captain, accepted the award on his behalf.  Make no mistake, he may have his critics off the pitch, but on the pitch he was an oh so worthy winner.  It's still not beyond the realms of possibility he could have scored 20 goals by season end…
Next up was the 'Goal of the Season'.  So many to choose from this year, and some real crackers, to boot, ahem.  Anyway, the winner was…
Nathan Redmond, somewhat quiet in the squad of late, earned himself a 'goal of the season' award.  For this goal here…
He became the third squad member to attend the awards, and he was a very popular addition to the room.  Jordon Mutch and Nathan Redmond have given the kids something to dream about, and his smile seems to confirm his dreams have been realised too!
What a goal, what a prospect, let's hope we see more of him this season AND next…
Next up was the Save of the Season.  Two Myhill saves were up against two Doyle saves in this category, and I have to admit I've been wondering for about 15 matches why we don't bring Doyle back into the first 11.  Myhill will have made no promises to stay at Birmingham next season.  Foster may well stay at West Brom, especially if we don't get into the Prem.  Colin Doyle  is OUR player, and hasn't let us down this season.  Perhaps if he won this award, Hughton might give him a start against Bristol City?  I have nothing against Myhill, in fact, I do rate him highly too, but I think Doyle would be a better 'keeper to stick in between the posts at this stage of the season.  Fresh legs, etc.  Anyway, who would win what was –  effectively – 'keeper of the season award?
Fourth (and final) player to arrive, Colin Doyle received his award in the company of his little girl.  Again showing the young fans how valued they are.  He must wonder what he needs to do to get first team football.  He's arguably good enough to play as first choice team in the Premiership (how Wolves would have loved him between the sticks this season!) yet can't seem to start in the League in the Championship (though he did replace an injured Myhill against Ipswich and obviously had a great run in the Carling, FA and Europa Cups)!  He saved a penalty against Mata at Stamford Bridge, and another one at St Andrew's.  A deserved winner of the Save of the Season!
The awards were coming in thick and fast, now, and the next award was to be the Top Goal Scorer.  No tension here.  Zigic third, Burke second and the winner currently on 17 goals was Marlon King…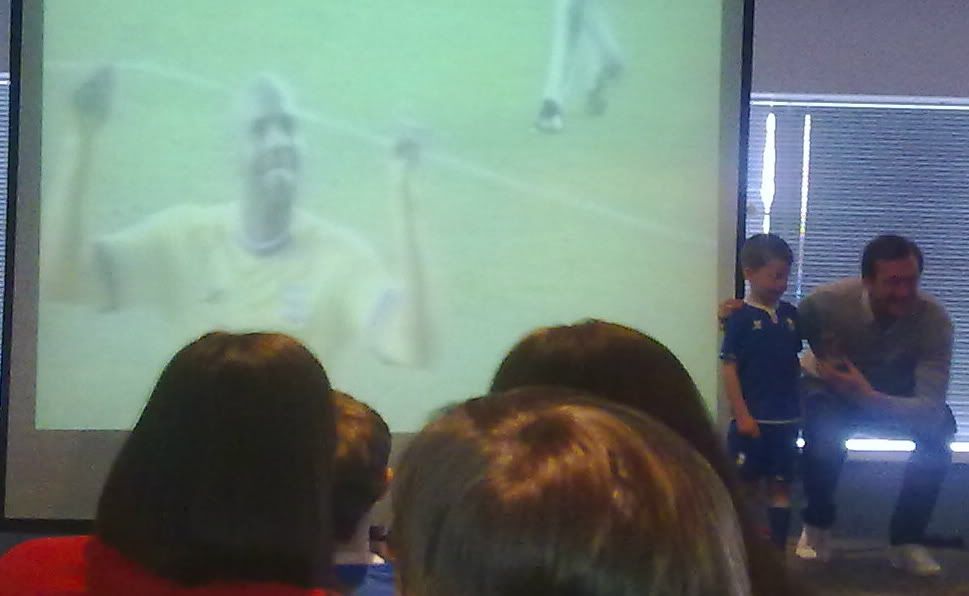 Next was an award not really suited to showing on a photograph – the Best Goal Celebration, so I videoed this one.  These are a curiosity to me, as there must be plenty of players who rehearse a celebration, never getting the opportunity to use it.  Some must have one in mind, then totally forget it in the euphoria, and some end up injured in the aftermath!  My money was on Zigic, to be honest, he could have stood stock still and done nothing whatsoever after scoring four goals for Birmingham City, and I'd still have voted for him, but then I'm not the one who gets to dictate the winner…the winner was…
Best Goal Celebration Award, BCFC. 2011/12 Nathan Redmond vs CD Nacional (click to watch video)
Young Player of the Season didn't include Jack Butland in the brochure, though in all fairness it was always going to be a 'two horse race' between Redmond and Mutch.  Last season's winner (IIRC?) was Jordon Mutch, could he make it two in a row?
Will Jordon be too old next year?  Hopefully, all of our young talent will still be with us next year, in the Premier League.
Then came 'Moment of the Season' award, which only had four on the shortlist as you may be able to make up in the photograph of the nominations above.  Victories over Club Brugge, Nacional and Maribor in Europe were vying with the 6-0 thrashing dished out to Millwall away (beating them 3-0 at home wasn't enough for a shortlisting!).  Holding Champions League semi-finalists to a replay in the FA Cup or  Zigic's four goal haul could arguably have been in there too, but our season isn't yet over.  Darren Carter probably won't have featured too heavily in the end of season awards before the Play Off Final!  Anyway, the winner of our Moment of the Season (so far) was…
Steven Caldwell picked up the award on behalf of the whole team, King (2),  Burke, Davies, Rooney, Redmond goals, but appearances also from Myhill, Caldwell, Ridgewell (remember him?), Mutch, Gomis, Rooney, Fahey, Zigic and Spector sealed our best away win in umpteen years!
Next – rather intriguingly – was the unshortlisted Prozone Player of the Season.  I suppose the stats had to speak for themselves, and the player Prozone felt demonstrated himself as Player of the Season, was…
Then came the moment we'd all been waiting for (though it had been an enjoyable wait!)…the Birmingham City Young Fans' Player of  the Season…
You had to say, Murphy, Zigic, King, Caldwell, Davies, Redmond, could all have been in with a chance, but the voting went like this:
3rd Curtis Davies,  2nd Nikola Zigic, and 1st, with 40% of the vote…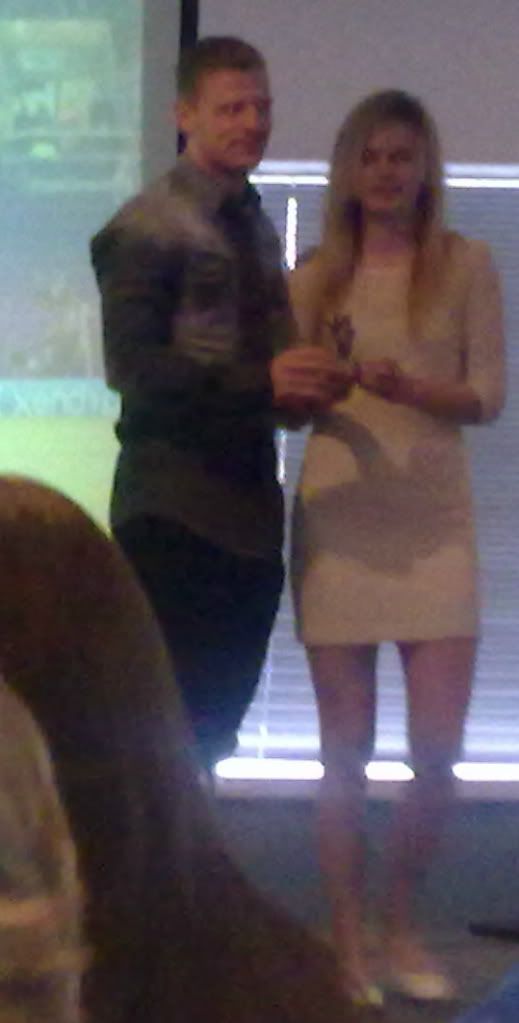 That was it, as far as the awards went.  What a day for Burke, but also a great day for Nathan Redmond!  There was still time for autographs, though.  Christian had his photo taken with Colin Doyle before…
…so I hope he wasn't offended today, when Christian went straight to Nathan Redmond, after 'only' getting Doyle's autograph!
Keep Right On,
Thanks to the club, and particularly Chris Burke, Steven Caldwell, Colin Doyle and Nathan Redmond!
Russell Dempsey